Afin de réserver la villa pour vos vacances ou obtenir davantage de renseignements, n'hésitez pas à nous contacter par
mail
ou par téléphone +33 (0)2.40.47.35.99 ou au +33 (0)6.07.24.53.25
In order to book the Villa for your Holiday or to get further information, do not hesitate to mail us or call either of the following numbers :
+33 (0)2.40.47.35.99 or +33 (0)6.07.24.53.25
Les disponibilités de la Villa Indigo
Availability of Villa Indigo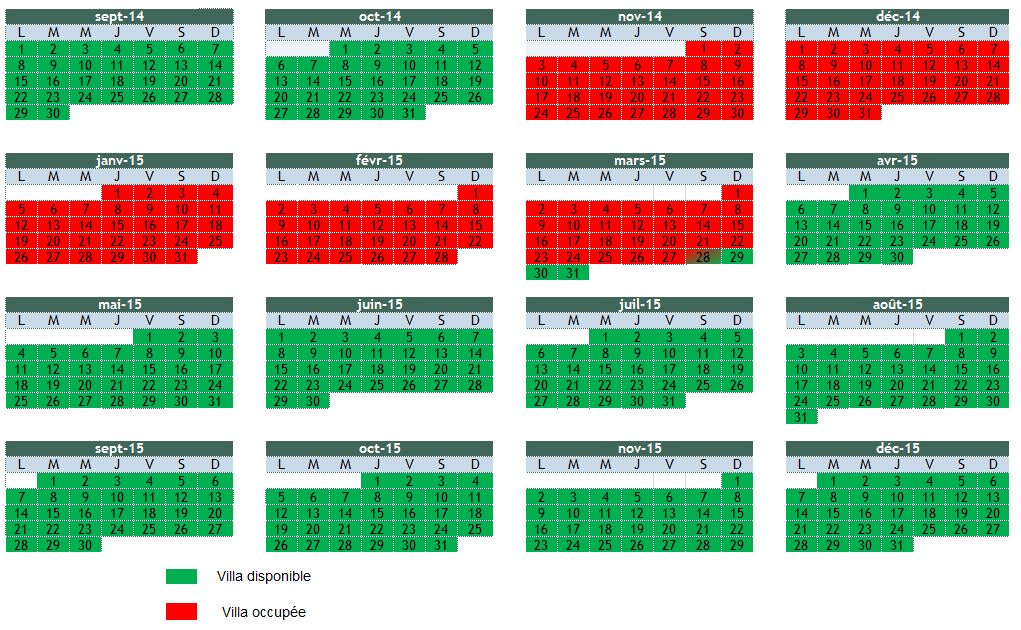 Les modalités de location
Renting details
Afin de réserver la Villa Indigo, nous vous demandons un acompte de réservation correspondant à 25% du montant de la location, puis par retour, nous vous adressons le contrat de location. La durée minimum de séjour est de 7 nuitées.
To book Villa Indigo, we kindly ask for a deposit that amounts to 25% of the total price, once we receive it we will send you the renting contract. The minimum duration for a stay is 7 days.
Nous mettons à votre disposition le linge de maison comprenant les parures de lit, les serviettes de toilette ainsi que les torchons.
Some sets of sheets, towels and napkins are at your disposal in the house.
Sur place, une conciergerie est à votre disposition, vous permettant d'organiser au mieux vos vacances
.
On ground, a house keeping service will be at your disposal to help you best organize your holiday.
La Martinique étant île relativement grande avec peu de moyens de transport collectif, nous vous recommandons vivement de louer un véhicule
.
AS the Martinique is a big Island with insufficient public transportations, we strongly advise you to rent a car.
La piscine est équipée d'une alarme pour la sécurité de tous, mais rien ne remplace la surveillance et la vigilance constante des adultes !!!
For everyone's safety, the pool is equipped with an alarm device, but nothing compares to adult's supervision and constant vigilance!!!
Les Tarifs
Tarifs